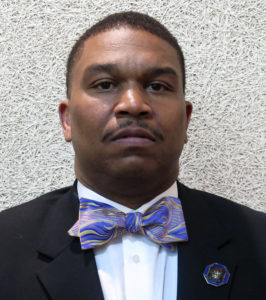 It is a pleasure and an honor to serve as Basileus of this distinguished chapter of the Omega Psi Phi Fraternity, Inc. It is my duty to continue to lead our chapter in the forefront of community service activities as we have done for the past 42 years.
Since 1975, Tau Pi has served the Howard County community in many ways while improving the quality of life for those around us. We have always used our four cardinal principles as our guide: Manhood, Scholarship, Perseverance, and Uplift. Each year we strive to maintain and strengthen our relationship with the Howard County community and to develop new relationships that will expand our reach and deepen our efforts. From college scholarships, feeding the homeless, assisting the elderly, and numerous other charitable events, we accomplish many great feats in the community each year.
It is my hope that you will support our efforts as we continue our mission of being a pillar within this great community. If you would like to get involved, please visit our website for the calendar of events and activities.
Thank you for visiting and we look forward to working with you in the future. It is our mission and my sincere hope that we will continue to work together to make the Howard County community a great place to live and work.
Brother Martinez A. Harlee
Basileus, Tau Pi Chapter
Omega Psi Phi Fraternity, Inc.